PDF Product Catalogs with Pimcore Pim and PDFreactor
Pimcore PIM + PDFreactor – a revolution in creating print catalogs!
Pimcore provides extended support for Cross-Media-Publishing and Web-to-Print initiatives. In this case Pimcore supports master data management and either provides this highly structured master data including all corresponding multimedia assets to desktop publishing products like Adobe® Indesign® and Quark® Xpress® or supports the automatic generation of print-ready documents (PDFs,…). Pimcore actively supports the opensource single-source-publishing approach.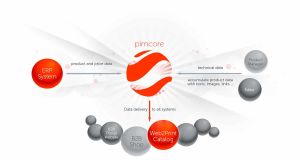 The Pimcore based PIM system is the central data hub, which supplies to its successful B2B shop also the tool for creating PDF product catalogs with the required data. Thus, the catalog creation with up-to-date product data, individual prices and high-quality pictures is possible at your fingertips any time. The ready-to-print PDF is directly supplied by the Pimcore PIM system.
The most efficient and flexible way to create ready-to-print documents like catalogues and price lists is to use Pimcore PIM in combination with RealObjects PDFreactor. Together they build a solid stack for automated database publishing and Web-to-Print.
Headquartered in Austria, the Walter Bösch GmbH & Co KG (about 650 employees and 100M EUR revenue p.a.) is a specialist manufacturer for heating, ventilation and air conditioning technology. A high-quality print catalog is an essential tool for hundreds of contractors and distributors selling the Bösch technology across various countries.
Initial situation. Several Bösch employees used to work months on the creation of the catalog, as product data had to be collected, verified and updated. An integral filling system for the thousands of product pictures did not exist and the overall process depended on normal desktop publishing programs.
Solution. The PIM system is the central data hub for all kind of product information (text, technical data, pictures, videos, links etc.) and delivers up-to-date data to various output channels. Updates of the product information have to be done only in the PIM system.
Realisation. The Bösch ERP system provides the basic product data and pricing information, which is automatically captured by the Pimcore PIM system using an ERP-PIM interface. The catalog editor enriches the product data in the Pimcore PIM system through additional information such as, text, pictures, links etc. The Bösch B2B shop as well as the catalog production uses this data.
The catalog is directly created in the Pimcore PIM system using a plugin. The catalog editor creates single chapters and adds content pages, which are directly filled with data from the PIM system. The Pimcore PIM plugin allows the PDF creation any time. Additional settings, e.g. the integration of printer marks, can be done optionally.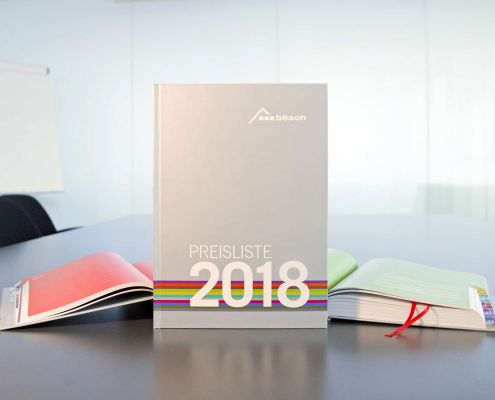 Bösch uses a printer‐friendly PDF (DIN A-4, 32MB) for downloads and electronic distribution. Within the PDF each product is directly linked to the Bösch B2B shop.
A print compliant PDF (extract, 12 MB) with a size of about 170 MB – including printer marks, high-resolution images and CMYK color space compatibility – went to a print shop for the production of hardcovers.
The 680+ page Bösch product catalog has become an Elements flagship project, deeply showing the strategic value of PDFreactor for the Web-to-Print process within the Pimcore PIM solution. The highlights of the PDFreactor implementation include:
Cross-reference
Table of contents
Multi-column layout
CSS transforms
Tables & floats
Printer marks
CMYK colors
PDFreactor Pimcore Pricing and Deployment
The PDFreactor CPU pricing scheme and Software License Agreement (PDF) is applicable.
The PDFreactor Webservice and Docker-Image enables the smooth integration of a PDFreactor CPU License into the PIM module in order to streamline your web-based print processes. To receive a quotation directly from RealObjects or to securely purchase a PDFreactor license from our online reseller ShareIt using a major credit card (Visa, MasterCard, American Express, JCB, Diners Club), wire transfer, Paypal or check, please contact support@realobjects.com
Integration and Usage
Documentation on how to create print-ready PDFs in general can be found on the Pimcore documentation web site in the chapter Print Documents. If you are looking how to directly create and return a PDF instead of HTML from your controller, please have a look at the Pimcore documentation web site, chapter Rendering PDFs. A fully working demo application can be found at https://demo-advanced.pimcore.org/admin (User: admin, Kennwort: demo)
IMPORTANT NOTICE
For availability, documentation, technical support etc. please contact info@pimcore.com. RealObjects does not provide any support related to the integration of the PDFreactor into the Pimcore platform.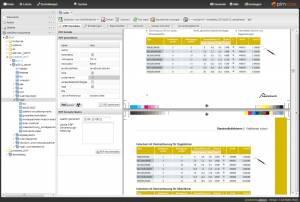 Pimcore is a browser-based free and open-source modular content management system (WCMS) and web framework for creating and managing websites, web applications as well as digital content or assets released under the terms of the GPLv3 License.
Besides being a full-featured open-source WCMS system, Pimcore PIM is the first and premier PHP open source enterprise product information management framework available. This means true multi-channel publishing and integration into ecommerce systems like Magento and OXID eSales.
Technologically Pimcore is strictly based on the Zend Framework, the leading development framework for the PHP programming language used by hundreds of companies such as Fox, IBM and bwin.
Pimcore's frontend GUI interface is 100% powered by the renowned Ext JS user interface toolkit, which is used by companies such as Adobe, Amazon and Sony.
The elements Group (including its subsidiary pimcore GmbH) is a leading full-service digital company focused on creating superior multi-channel digital marketing experiences that bring brands and customers closer together. Headquartered in Salzburg Austria, the elements Group consists of a team of more than 80 developers, marketers and designers, all working together to build exceptional digital solutions for ambitious international clients.
The elements Group is also the developer of Pimcore (www.pimcore.org), the first open-source multi-channel experience and engagement management platform. Used by over 80,000 websites and apps worldwide, Pimcore is the flexible and integrated platform you have been looking for to manage all of your digital content or assets for all of your marketing channels and customer touch-points, for any device and for any application.
The elements Group partners with RealObjects, enabling Pimcore PIM users to utilize best-of-breed automated database publishing, variable data printing (VDP) and web-to-print functionality based on RealObjects PDFreactor.
For more information about Pimcore PIM + PDFreactor please contact:
pimcore GmbH
Gusswerk Halle 6
Söllheimerstraße 16
5020 Salzburg
Austria
Telephone: +43 662 876 60 62 30
Facsimile: +43 662 876606 – 99
E-Mail: info@pimcore.com